Will Tiao: 30 Stories for 30 Years
Editor's Note: This feature is part of the 30 Stories for 30 Years series. Learn more.
Will Tiao got his start in the mid-west, came across The Theatre Lab while living on the East Coast, and now calls Los Angeles home. Read more about his fascinating journey.
To get started, can you tell our readers a little bit about yourself – where are you from, and what do you do now?
I was born and raised in a small midwestern college town called Manhattan, Kansas. My former high school classmate — the actress/comedian Bridgett Everett — has an HBO show based there called Somebody, Somewhere. I was Bridgett's piano accompanist in the high school show chorus we were in called Pops Choir.
I ended up going to college and graduate school in Boston and New York, and worked in D.C. after I finished my studies. 20 years ago, I left the DC area and moved to Los Angeles, where I've been ever since. I'm now a film producer and real estate developer.
What made you decide to get involved with The Theatre Lab in the 90s?
After graduate school, I landed a job in the federal government as a Presidential Management Fellow. However, I quickly realized that I wasn't bureaucratic material. I'd always wanted to take an acting class for fun, and randomly found The Theatre Lab online. I can't remember the name of the class, but it was with Buzz Mauro and was an introductory acting class. Little did I know that it would change my life forever!
How has your work and/or your daily life been affected by your experiences at The Theatre Lab?
That first class really changed my life. I felt like I had finally found a place and medium where I felt accepted and validated. I kept taking more Theatre Lab classes, which eventually led to me being cast in a play. Then a TV/film agent saw me and put me in my first national commercial. Soon enough, I had a full blown second career acting in plays, commercials, industrials, TV shows, and films.
That second career became a first career when I decided to take a chance and leave D.C. for New York, and later Los Angeles. I had a full time career as an actor, writer and producer for over a decade. I wrote, produced and starred in several independent feature films. Later, I turned my attention to real estate and now work with many people in the entertainment industry. So you could say my experiences with The Theatre Lab led me to my current life!
Any Theatre Lab memories you'd like to share?
It was May 2000, and I was on the floor of the House of Representatives where there was an historic vote happening to grant China permanent normal trade relations. I was part of the staff which helped craft the bill. I remember I had to tell my boss — who was an important Congressman and had authored the bill — that I had a play opening that night and that I needed to leave to get ready. He said, "then by all means, go!"
That play was A Small Family Business by Alan Ayckbourn which was being produced by The Theatre Lab. My role was to play 5 different Italian brothers who all were having an affair with the same woman. Around 90% of my lines were in Italian. (I still remember a couple of them.)
In one of the scenes, my character is rushing to put on his clothes as his lover's husband is coming back at that time. In my rush to change clothes, I accidentally dropped my boxers and flashed the audience! Oh, and of course, my mom and my sister were in the audience too!
That's my first and only nude scene… in a Theatre Lab play.
If you had to describe The Theatre Lab to someone who had never heard of us, what would you say?
I would say they are lucky to have found The Theatre Lab. Whether you're just trying acting out for fun, or a very experienced actor, The Theatre Lab is a great to place grow and learn from a community of theatre professionals who are warm and supportive and to try out different parts of yourself.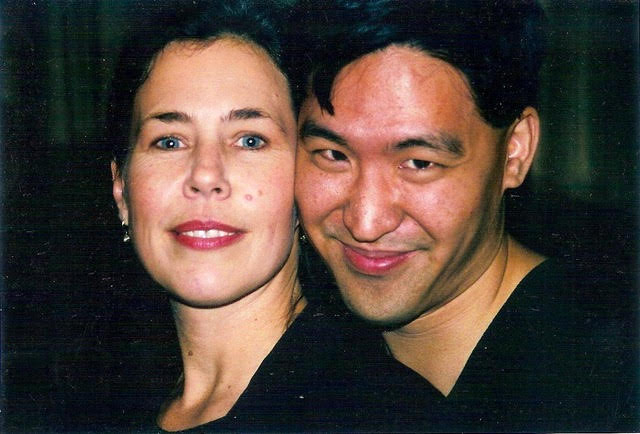 Photo Caption: "[This is a] picture of myself and the late Elizabeth Greathouse from 20 years ago who was my scene partner in a play called "Sure Thing" by David Ives, that Deb Gottesman directed. Elizabeth and I became close friends through The Theatre Lab, and I miss her dearly," says Will.

Elizabeth Greathouse was a wonderful student and supporter of The Theatre Lab.