At The Theatre Lab, our summer camp programs are divided into groups based on the grade that the student is entering in the fall of 2022. We place all children with their peers based on grade regardless of theatre experience. Camp is a very social experience and we want to make sure they are with a developmentally appropriate group. We keep our classes small and group age ranges narrow in order to provide both a challenging, engaging, and age-appropriate curriculum. Read about our philosophy.
Register Now
Bravos – Entering 1st and 2nd grade
Encores – Entering 3rd and 4th grade
Standing Ovations – Entering 5th and 6th grade
Summer Schedule for Bravos, Encores, and Standing Ovations
Regular Camp Day: 9 AM-3 PM
Early Drop-Off Option Available: (8:30 AM) $25/week
AfterCare: 3 PM-6 PM -$140/week
Bravos, Encores, Standing Os (programs for rising 1st-6th grade)
Session 1: June 21-24 (no camp June 20)
Theme: Character Creation
$400
Session 2: June 27-July 8 (no camp July 4)
Theme: Shipwrecked-Tales on the High Seas
$750
Session 3: July 11-July 22
Theme: Around the World (in 10 days!)
$800
Session 4: July 25-August 5
Theme: Playmakers (Devised Theatre)
$800
Session 5: August 8-19
Theme: Shakespeare
$800
Session 6: August 22-26
Theme: End of Summer Comedy Improv Week!  
$425

A limited number of need-based scholarships are available.

What does a typical day at camp look like?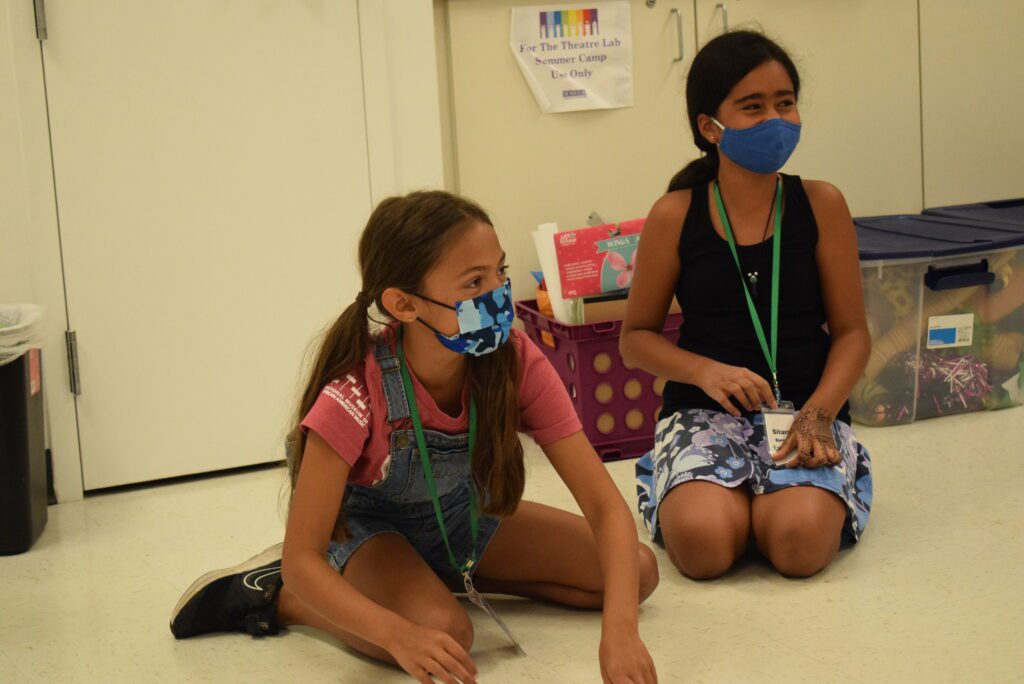 Here is an example of a typical day at The Theatre Lab:

9 AM-Students gather and enter their classroom space and get settled
9:10 AM-9:45 AM-Morning Circle/Warm-Ups/Ensemble Building Activities
9:45 AM-10:45 AM-Skill building work (improvisation exercises, character creation work, script development, etc.)
10:45 AM-11:15 AM-Snack break (outdoors weather permitting)
11:15 AM-12:15 PM-Continued skill building work
12:15 PM-12:45 PM-Lunch (outdoors, weather permitting)
12:45 PM-1:00 PM-Outdoor time/game time
1:00 PM-1:20 PM-Mindfulness/refocus time
1:30 PM-2:50 PM-Work on applying developed skills to prepare for the final sharing
2:50-3 PM-Goodbye/Transition Time
3 PM-End of Camp Day/Transition to AfterCare

Read about COVID Safety Protocols.