Larry Leverone: 30 Stories for 30 Years
Editor's Note: This feature is part of the 30 Stories for 30 Years series. Learn more.
Larry Leverone discovered The Theatre Lab in its early years, and performed in Three Sisters and Heartbreak House as part of the very first Creating a Role classes in 1995 and 1996. Since then, he's relocated to the Pacific Northwest, but still finds ways to stay connected to The Theatre Lab. Read on for the interview.
TTL: Larry, thanks for agreeing to chat with us. Back in 1995, you were cast as Dr. Chebutykin in The Theatre Lab's production of Anton Chekhov's Three Sisters. What memories do you have of performing in that show, The Theatre Lab's very first Creating a Role production?

Larry: I remember the feeling of teamwork and how good it felt with everyone caring about each other. I remember trying to figure out what Three Sisters was all about and for the first time in my life trying to become another person, Ivan Romanovich Chebutykin.
I remember not understanding Chekhov at the beginning and how both Buzz and Deb unraveled the art within his work. I remember rehearsals where I was the last in the cast to have my lines down and Buzz being generous with his time to take me aside and work with me one-on-one.
I remember the anxiety of opening night. But I loved it. I remember my Barrie School students seated in the front row and coming up to me at the end of the performance with a bouquet of flowers. I remember Kathy Angelakos as Vassily Vasilyevich Solyony. I loved rehearsing with her. And then in performance, interacting with her character, so well captured by her.
You came back the next year for Heartbreak House.  Tell us about that experience.
I remember how different the feeling was from having done Three Sisters. I was a bit more confident. I worked harder and earlier on memorizing my lines. I liked meeting new actors. I actually liked the character Mazzini Dunn.
Kathy made an extra effort to come to my apartment and do extra running of our lines. She was always encouraging. She had a way of getting me to try different approaches to my lines. I remember the night I heard she died [in a car accident after rehearsal one night]. I didn't think the play should go on. I didn't know how it could. I remember the talk Buzz and Deb gave to the cast.

I remember Deb reading Kathy's lines as Mrs. Hesione Hushabye during our performance and hearing Kathy speaking them.
After the performance when I went home, I discovered that Kathy had left a pan in my apartment where she had brought goodies during our final rehearsal together. I still have that pan now some 25 years later.

I remember Buzz and Deb giving the eulogy at her memorial service. I remember reading a poem by Lord Byron called "She Walks in Beauty."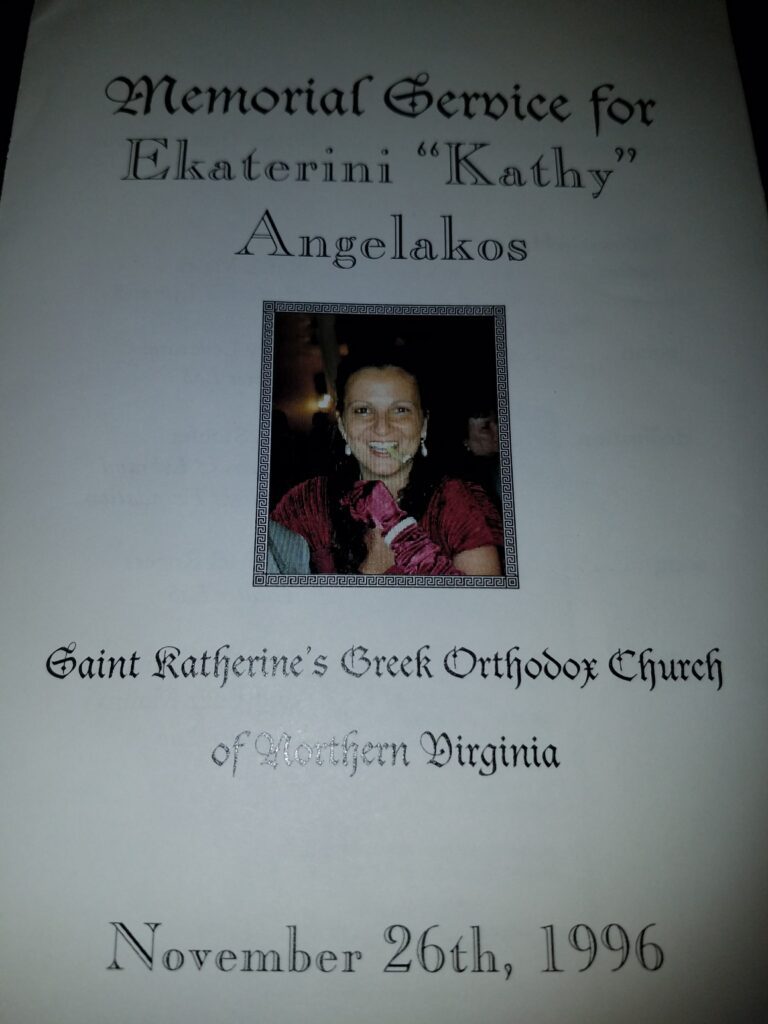 Offstage, you continued to support the work of The Theatre Lab, particularly in memory of your classmate, the late Kathy Angelakos. Can you tell us a little about Kathy and the scholarship fund that you helped establish?
Kathy was fun, sweet, generous with her time, easy to work with, and very patient with me. She made the extra effort often to come to my apartment to rehearse. Her smile was deep, sincere and special. When special people like Kathy pass on, all too often suddenly, I need to heal, and one way I try to cope with the loss and mend the wound is to contribute, either financially or with my time, to help others in the name of the person whom I sorely miss. I believe firmly that a connection can be maintained with those dear ones who have moved on by uniquely establishing something new and tying the newness to the loss. I've lost many friends to AIDS and I try to honor their memory in a tangible way.
How did your experiences at The Theatre Lab affect your life?
The simple and most honest answer I can give is in a BIG way, First, Buzz and Deb set an example of two folks who cared deeply for each other and for theatre. They had an idea and were going to make it happen. They were going to make the organization successful, and they were going to make us students do the best we could.
What I learned at the Theatre Lab impacted my classroom teaching at the Barrie School in Silver Spring. I not only became a more interesting math teacher, but I also immersed myself in the school's drama program. I even established a magician/clown club where 6th and 7th grade students would perform at local shelters, Alzheimer's units, and hospitals. I increased my attendance at plays at theaters like Studio, Woolly Mammoth, and Arena Stage. I now live in Eugene, Oregon, where I attend plays regularly at Oregon Contemporary Theater, Very Little Theatre, and Actors Cabaret.
My Theatre Lab experience has continued to encourage me to remain involved with theatre. I auditioned for the part of Ned in Larry Kramer's play The Destiny of Me at the Actors Cabaret theater in Eugene Oregon using a monologue I had done in a Theatre Lab class.
Even now at 76 years of age I attend theatre classes at The University of Oregon, and I regularly audition at Oregon Contemporary Theater and encourage others to. I got a part in a play that was part of last year's NW Ten Festival called "Breath." Unfortunately we had to perform on Zoom. I've helped build sets. I've helped fellow actors run their lines. I help a local director cast his plays. Recently I've tried my hand at writing plays.
Because of trying to act and being gifted by two very gifted teachers, I feel comfortable speaking in front of people. I've given presentations around town in senior living places on the life of Henry David Thoreau. I've given presentations on the wonders of the small town on the coast of Maine named Ogunquit. I've given presentations on cross-country train travel (both the US and Canada). But most importantly, I've held onto the confidence that The Theatre Lab helped build in me to do regular magic shows at hospitals, memory units, psychiatric units, and senior centers.
Now that you live so far away, how would you describe your current connection to The Theatre Lab?
I love getting their emails. I love supporting their fundraisers. I love telling Buzz and Deb what I am up to. I love remembering Kathy.  Thank you, Theatre Lab, for the memories, the ways you changed me to be a better person, the doors you have opened for me, and the example you have set of a caring organization.
Photo: Snapshot courtesy of Larry Leverone, right, circa mid-1990s.