Former Theatre Lab Teen Student Produced, Stars In Critically Acclaimed Film
Constance Ejuma attended Theatre Lab's Summer Acting Institute for Teens in the late '90s. That experience sparked a journey that has led to her producing and starring in Ben & Ara, (view trailer) a socially conscious film that is raking in awards at major national and international film festivals.
Though she loved reading stories as a child, she didn't think about telling stories through acting until she was a teenager. Saving up money from her after-school job, she enrolled in the Summer Acting Institute for Teens. "It was one of the best investments I ever made in myself, and it's actually remarkable I went through with it, because I was an extremely quiet and reserved kid," she says. "My experience with Deb Gottesman, Buzz Mauro and all the instructors who ran the Summer Acting Institute was so transformative that I participated in the program for two years in a row."
And she's been making art ever since. Constance studied acting and communications in college and grad school, and eventually made her way to Los Angeles. She has appeared in several movies and TV series, but jumped at the chance to produce and star in Ben & Ara.
"I became a producer not by choice but out of necessity," she says. "Like most in the business, I've been a struggling actor the entire time I've been living in Los Angeles. I've been fortunate to have breakthroughs here and there, but nothing consistent. Ben & Ara came along, and I knew it was a story I wanted to tell. What has blossomed out of the experience is the realization that if I want to continue telling stories about social issues that aren't being tackled in the mainstream, producing is a role that I have to embrace. Ultimately, it's empowering to create your own opportunities instead of just waiting for someone to give you a job."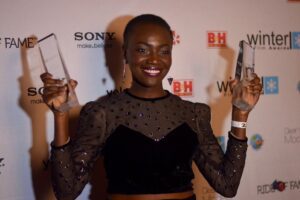 The film tells the story of a relationship between an African Islamic woman and and agnostic man, and how they try to make it work in spite of religious, racial, and cultural differences. Not only was it a story Constance wanted to tell, it's getting a great response. The film has received recognition from a dozen national and international film festivals. Constance fully intends to continue producing stories she wants to act in, in part because of something she took away from her time at The Theatre Lab. "Doing a scene from The Glass Menagerie, I was too young at the time to really understand the nuances. But one thing I took away was being comfortable with the idea that my voice was worth hearing," she said.
Constance points to The Theatre Lab as a pivotal place in her life. "The Summer Acting Institute for Teens really changed the trajectory of my life and clarified any doubts about wanting to pursue acting. It was my great fortune to have the program available to me as a creative outlet at a young age."
Congratulations, Constance! We're so proud of what you've created and of all that you will inspire others to do.