Larry Leverone discovered The Theatre Lab in its early years, and performed in Three Sisters and Heartbreak House as part of the very first Creating a Role classes in 1995 and 1996. Since then, he's relocated to the Pacific Northwest, but still finds ways to stay connected to The Theatre Lab. Read on for the interview.
Most importantly, I've held onto the confidence that The Theatre Lab helped build in me.
Larry Leverone, one of The Theatre Lab's first student actors
TTL: Larry, thanks for agreeing to chat with us. Back in 1995, you were cast as Dr. Chebutykin in The Theatre Lab's production of Anton Chekhov's Three Sisters. What memories do you have of performing in that show, The Theatre Lab's very first Creating a Role production?

Larry: I remember the feeling of teamwork and how good it felt with everyone caring about each other. I remember trying to figure out what Three Sisters was all about and for the first time in my life trying to become another person, Ivan Romanovich Chebutykin.
I remember not understanding Chekhov at the beginning and how both Buzz and Deb unraveled the art within his work. I remember rehearsals where I was the last in the cast to have my lines down and Buzz being generous with his time to take me aside and work with me one-on-one.
I remember the anxiety of opening night. But I loved it. I remember my Barrie School students seated in the front row and coming up to me at the end of the performance with a bouquet of flowers. I remember Kathy Angelakos as Vassily Vasilyevich Solyony. I loved rehearsing with her. And then in performance, interacting with her character, so well captured by her.
You came back the next year for Heartbreak House. Tell us about that experience.
I remember how different the feeling was from having done Three Sisters. I was a bit more confident. I worked harder and earlier on memorizing my lines. I liked meeting new actors. I actually liked the character Mazzini Dunn.
Kathy made an extra effort to come to my apartment and do extra running of our lines. She was always encouraging. She had a way of getting me to try different approaches to my lines. I remember the night I heard she died [in a car accident after rehearsal one night]. I didn't think the play should go on. I didn't know how it could. I remember the talk Buzz and Deb gave to the cast.

I remember Deb reading Kathy's lines as Mrs. Hesione Hushabye during our performance and hearing Kathy speaking them.
After the performance when I went home, I discovered that Kathy had left a pan in my apartment where she had brought goodies during our final rehearsal together. I still have that pan now some 25 years later.

I remember Buzz and Deb giving the eulogy at her memorial service. I remember reading a poem by Lord Byron called "She Walks in Beauty."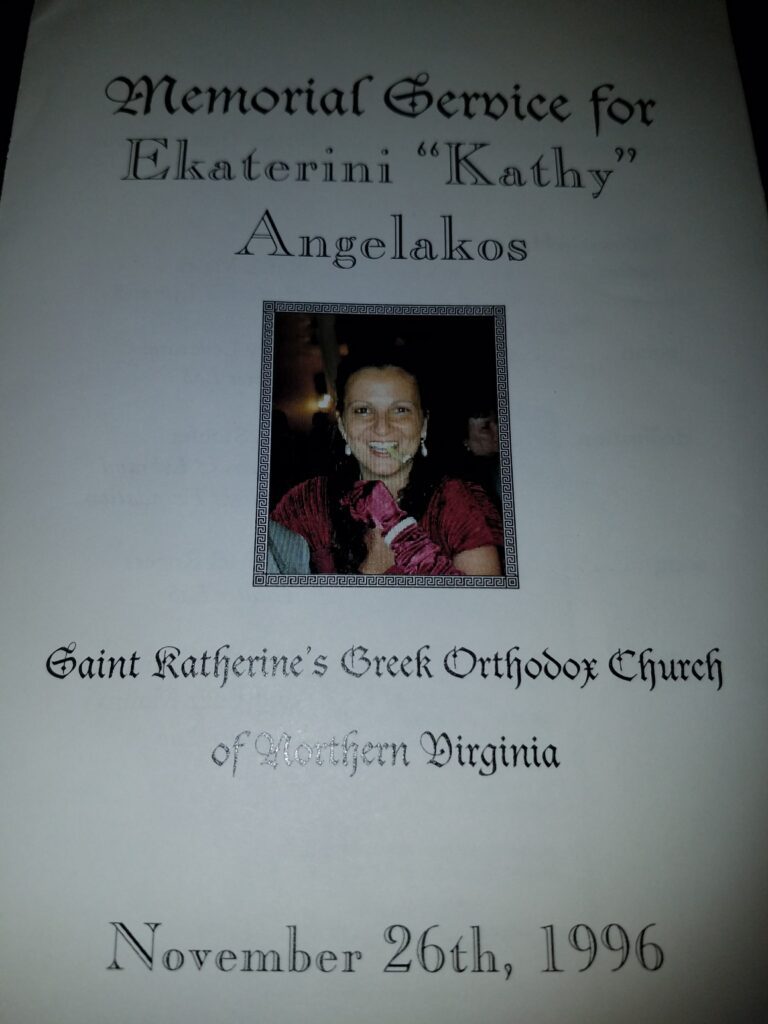 Offstage, you continued to support the work of The Theatre Lab, particularly in memory of your classmate, the late Kathy Angelakos. Can you tell us a little about Kathy and the scholarship fund that you helped establish?
Kathy was fun, sweet, generous with her time, easy to work with, and very patient with me. She made the extra effort often to come to my apartment to rehearse. Her smile was deep, sincere and special. When special people like Kathy pass on, all too often suddenly, I need to heal, and one way I try to cope with the loss and mend the wound is to contribute, either financially or with my time, to help others in the name of the person whom I sorely miss. I believe firmly that a connection can be maintained with those dear ones who have moved on by uniquely establishing something new and tying the newness to the loss. I've lost many friends to AIDS and I try to honor their memory in a tangible way.
How did your experiences at The Theatre Lab affect your life?
The simple and most honest answer I can give is in a BIG way, First, Buzz and Deb set an example of two folks who cared deeply for each other and for theatre. They had an idea and were going to make it happen. They were going to make the organization successful, and they were going to make us students do the best we could.
What I learned at the Theatre Lab impacted my classroom teaching at the Barrie School in Silver Spring. I not only became a more interesting math teacher, but I also immersed myself in the school's drama program. I even established a magician/clown club where 6th and 7th grade students would perform at local shelters, Alzheimer's units, and hospitals. I increased my attendance at plays at theaters like Studio, Woolly Mammoth, and Arena Stage. I now live in Eugene, Oregon, where I attend plays regularly at Oregon Contemporary Theater, Very Little Theatre, and Actors Cabaret.
My Theatre Lab experience has continued to encourage me to remain involved with theatre. I auditioned for the part of Ned in Larry Kramer's play The Destiny of Me at the Actors Cabaret theater in Eugene Oregon using a monologue I had done in a Theatre Lab class.
Even now at 76 years of age I attend theatre classes at The University of Oregon, and I regularly audition at Oregon Contemporary Theater and encourage others to. I got a part in a play that was part of last year's NW Ten Festival called "Breath." Unfortunately we had to perform on Zoom. I've helped build sets. I've helped fellow actors run their lines. I help a local director cast his plays. Recently I've tried my hand at writing plays.
Because of trying to act and being gifted by two very gifted teachers, I feel comfortable speaking in front of people. I've given presentations around town in senior living places on the life of Henry David Thoreau. I've given presentations on the wonders of the small town on the coast of Maine named Ogunquit. I've given presentations on cross-country train travel (both the US and Canada). But most importantly, I've held onto the confidence that The Theatre Lab helped build in me to do regular magic shows at hospitals, memory units, psychiatric units, and senior centers.
Now that you live so far away, how would you describe your current connection to The Theatre Lab?
I love getting their emails. I love supporting their fundraisers. I love telling Buzz and Deb what I am up to. I love remembering Kathy. Thank you, Theatre Lab, for the memories, the ways you changed me to be a better person, the doors you have opened for me, and the example you have set of a caring organization.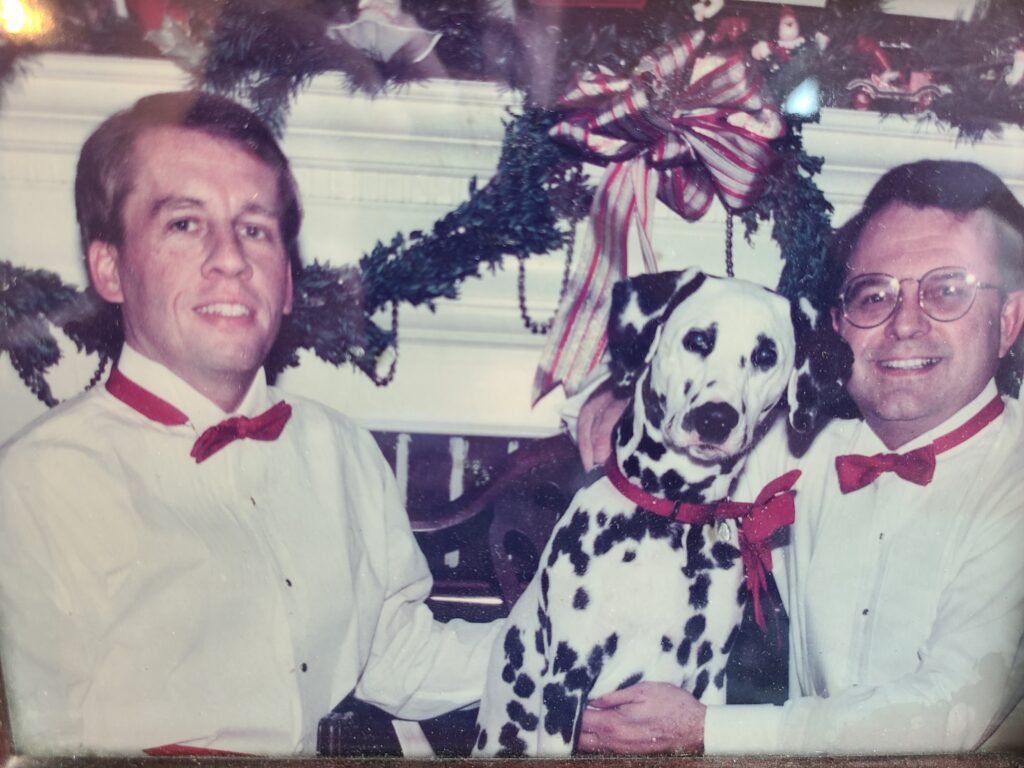 Julie Lloyd is a gifted singer/songwriter, as well as a respected public relations and communications executive, and Theatre Lab Board member. In 2018, she and fellow musician Steve Qunitilian took part in the year-long Honors Acting Conservatory, and acted together in the musical, If/Then. Since then, they've gone on to co-found Encore Theatre Company and perform together as part of the Juliet Lloyd Trio. In addition, both Julie and Steve are members of The Theatre Lab's adult faculty and are partners in life and career. Read our interview with the creative couple.
It's more important that you just try something.
Steve Quintilian, Honors Conservatory Alum, Adult Faculty Member
TTL: Tell us a little about how you met. What were your first impressions?
Julie: Our first Theatre Lab class together was the 2017 Creating a Musical Role course, which was Chess [featuring music by ABBA's Björn Ulvaeus and Benny Andersson]. I actually remember seeing Steve come in for callbacks and wondering who he was – I had taken so many previous Creating a Musical Role classes that I thought I knew all of the guys who typically auditioned! I also remember that towards the end of the process we discovered that we were both singer/songwriters and we exchanged CDs.

Steve: I met Julie [in Chess]. I remember she was very easy to work with, very personable, and really well prepared for every rehearsal. And we quickly discovered we were both musicians and started collaborating on projects almost immediately.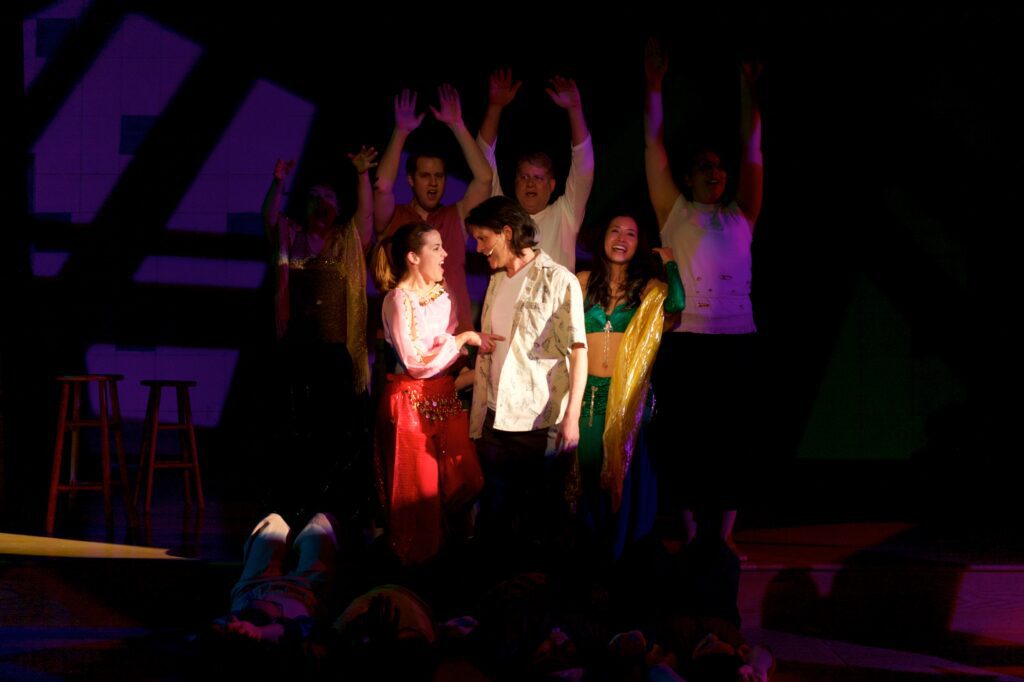 Each of you had a musical background prior to joining the Honors Acting Conservatory. Tell us about that and what you hoped to get out of the Honors experience.
Julie: I always considered myself a singer first, and my early classes at Theatre Lab were so eye-opening in terms of all the things I was missing out by not having had formal acting training. I remember going to a professional audition way before I enrolled in the Honors Conservatory, and after I sang my piece, the casting director said "What's your deal?" I didn't know how to answer that! But I knew there was lots I could learn to try to figure out "what my deal" was as an artist. I wanted to take the confidence I had as a singer and bridge that to being able to confidently make choices as an actor, and to not lean on singing as a crutch. I also wanted to learn as much as I could not just about the craft, but also repertoire – coming from a musical background I was really only familiar with a tiny slice of musical theatre history, and I wanted to dig into non-musical material and challenge myself to get out of my comfort zone.
Steve: I started my musical career as a guitarist. I have always enjoyed singing, but was mostly untrained. I had recently started studying voice in earnest and was looking for opportunities to sing outside of my comfort zone. Being in a few musicals was fun, but I quickly realized my acting chops were lacking. After I did a musical and some acting classes at The Theatre Lab, I decided this was the place for me to really grow as an actor. I applied to the Honors Acting Conservatory with the goal of gaining a reliable technique for acting, as I had for singing.
How did that year of training affect you?
Julie: I think the big theme for me was something I remember Deb highlighting in one of our regular Monday night classes, which was the importance of not playing it "safe" – both as an artist, and as a person. My year in Honors was all about giving myself permission (a great Deb & Buzz-ism!) to take risks. As someone who has always strived to do everything the "right" way, the idea that there isn't one right choice to make as an actor was often uncomfortable but at the same time so freeing. I find myself carrying that lesson with me not only in acting and performing, but in my personal and professional lives outside of acting. I think it's made me a better boss to the young people I manage at work, and a more empathetic human being.
Steve: Honors taught me both how to prepare and how to collaborate as an actor. At the beginning I felt like nothing I was doing was right. But slowly I learned that there is not necessarily a right and a wrong answer in acting. It's more important that you just try something. In both self-directed scenes and in full-scale shows with a director, I learned how to activate myself, and not wait for someone to do it for me. [As Julie alluded], "I give myself permission."
You launched the Encore Theatre Company in 2020. What led you to founding a new company together and what are your goals for it?
Julie: Steve and I both went on a lot of auditions after Honors and one of the big things that we were struck by was how often we felt like you had to hide parts of yourselves (like the fact that you have a day job – something that most actors in our region have!) in order to present a certain way. It was the opposite of what we encountered at The Theatre Lab, which is so embracing of people's different backgrounds and experiences and the various, non-linear pathways you can take into acting. That's core to the mission of Encore Theater Company. We wanted to provide a space where everyone could bring their whole selves and we could engage actors of a variety of backgrounds. We were also struck by the difference in "gatekeepers" when it comes to theatre versus music. As musicians, we were both used to going out and finding or creating gigs ourselves – so we thought, why not do that in theatre? ETC's first production was at the height of the pandemic in our backyard – an intensely moving version of Next to Normal, featuring one of our amazing Honors classmates, Carla Crawford. We're currently producing our second show, the play Incognito, featuring another Honors alum – Gifty Amponsem. We love being able to stay so connected to the Theatre Lab community!
Steve: We recognize that actors follow a lot of different paths to get to the stage. We want to celebrate artists' varied and complex lives, and provide opportunities for both brand new and experienced actors to work and grow together.
You both have made the transition from student to teacher at The Theatre Lab. Julie, you're music directing Blood Brothers, this year's Creating a Musical Role class, and Steve, you're vocal coaching that show. How has that been going?
Julie: It is so cool to be on this side of the process, having been involved (in one way or another) in 8 of the last 10 Creating a Role classes — six as a performer, one assistant music directing, and now music directing! I have loved getting to work alongside Deb with this cast. It's such a one-of-a-kind experience to be able to approximate elements of a professional rehearsal process while still being in the supportive, educational environment that The Theatre Lab provides. And it's been a huge learning process for me – figuring out what works in terms of how to teach music, work with actors of various levels of experience, and use technology to help supplement the process.
Steve: Because I joined the faculty in the middle of the pandemic, all of my classes for The Theatre Lab have been online (except for Blood Brothers). I teach voice for both actors and singers – a singing voice class and a recurring Estill Voice Training class. My Estill class is usually an hour long intro. I really appreciate getting to work with a wide variety of students from around the area (and the country). Singers, speakers, actors of all races, ethnicities, and gender identities come together to share their voices in these classes. It is an honor to help them shape their voices into what they want them to be.
What motivates you to teach (in Julie's case, to Music Direct?)?
Julie: Music directing lets me combine my musical and acting backgrounds in a way that is unique from being on stage and performing. I really like the challenge of having to learn everyone's parts well enough to actually teach them, and I'm at home arranging music for the band and (as was the case with a few songs in Blood Brothers) writing additional vocal harmonies. It's a different kind of challenge — and I'm grateful to have Steve also working with the cast and bringing his technical expertise in singing!
Steve: It is extremely gratifying to help a student unlock a hidden vocal talent. I live for those moments when a student says "wow I didn't know it could be so easy!" On the more selfish side, teaching makes me a better artist. Through my coaching I am always deepening my understanding of my own voice and my own acting skills.
What's your hope for the future?
Julie: The last few months have been tremendously busy from an artistic standpoint — writing and recording new music, performing constantly, being involved in Blood Brothers, and producing our play with ETC. I'm feeling incredibly grateful for all the opportunities, especially coming out of the pandemic where things were so quiet for so long. My hope is that I can continue to find varied ways to stay artistically fulfilled, whatever they may be! And of course that I can continue to support The Theatre Lab, which has felt like a true artistic home for me since I took my very first Creating a Musical Role class in 2013.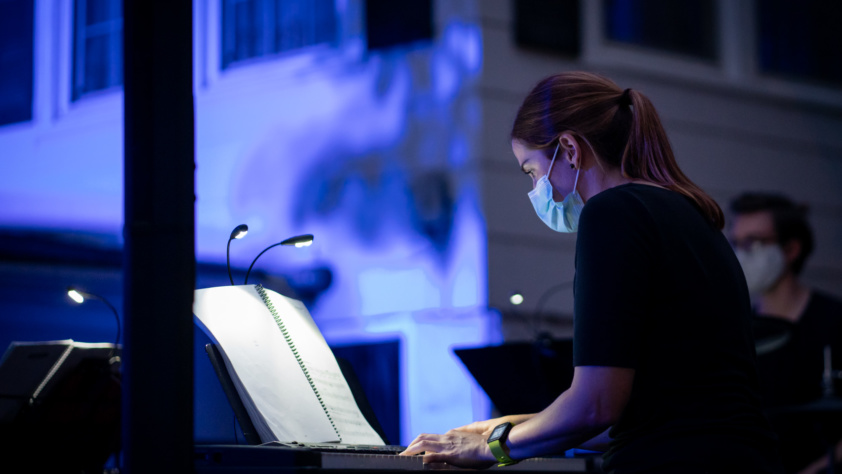 Steve: I haven't been in a stage production for over two years. I've been very fortunate to have musical, educational, and directing opportunities through the pandemic, but I look forward to being a member of a cast again!